Welcome to the German Recipes Wiki!
German Dishes
Seasonal Recipes
Fall is around the corner, which means freshly baked breads, lots of potatoes, rich buttery pancakes, and more! Cook up one of our top five favorite German dishes.
Dessert of the Week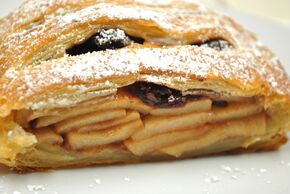 Apple strudel is a delicious treat, known well in Germany and America. It is surprisingly easy to make! The recipe involves pastry dough, apples, cream, sugar, and more. This strudel recipe will be your new go-to for the holiday season! Click here for the recipe!

Featured Media
Recipe Wikias
Poll
News
Blog
Asnow89
•
Wikia Day is back again! This time the Lifestyles team from Germany has arrived...so with the power of the Germans and the Americans, we created this wikia!
See more >